Introduction of Mango juice powder:
Product Name:Mango Juice Powder
Source:Fresh Mango Fruit
Latin Name:Mangifera indica L.
Drying Method:Spray Dried
Appearance:Light Yellow Powder
Particle Size:60 mesh
Solubility:100% soluble in water
Applications:Food and beverage
Shelf Life:2 years
Active Ingredient:Vitamin C
Test Method:TLC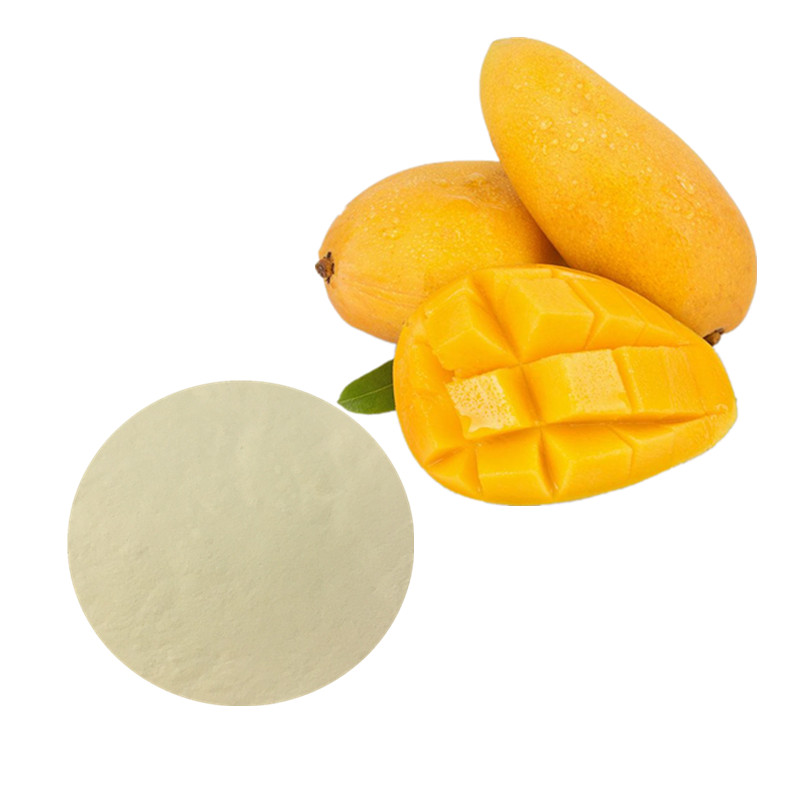 Description:
Product Name:Pumpkin Powder
Latin Name:Cucurbita Linn.
Part Used: Fruit
Testing Method: TLC
Appearance: yellow white powder
Specification: 10:1
Extract solvent: Water & Grain alcohol
1. Antioxidant effect
The specificity of the mangoside structure of the mango extract has multiple phenolic hydroxyl groups in the molecule, and the phenolic hydroxyl group happens to be an important group that scavenges free radicals and reactive oxygen species. Its mechanism of action on free radicals can be attributed to two aspects: on the one hand direct action on scavenging free radicals, on the other hand, it acts on iron and copper ions to reduce its further reaction with free radicals.
2. Anti-diabetic effect
mango peel extract can reduce the blood glucose concentration of the animal model KK-Ay of spontaneous diabetes, and the serum insulin level also decreases. The glycosides and their glucosides may show antidiabetic activity through insulin sensitization.
3. The role of liver and gallbladder protection on the liver,mango peel extract stabilizes lysosomal membranes and directly inhibits lysosome acid phosphatase activity.Mangiferin also has a clear choleretic effect.

1.Irvingia Gabonensis is fast becoming one of the most popular ingredients in the supplement industry because more and more studies are showing the benefits of Irvingia when it comes to weight loss, high cholesterol and elevated blood glucose levels.

2.Irvingia Gabonensis is a West and Central African tree also known as the wild mango or bush mango. The tree is valued for its dika nuts in addition to producing a yellow edible fruit. The soluble fiber in the seeds is being regularly studied to determine the validity of claims that Irvingia Gabonensis aids with weight loss. Irvingia is high in fat, similar to other nuts and seeds, and contains 14% fiber.